Today's Guest Blogger is Huffington Post blogger and marketing specialist, Yasamin Beitollahi, known in social media for her enthusiasm for technology, and her love of cooking. She graciously allowed me to share her great post with my readers. You can follow her on her Twitter feed and friend her on Facebook page. This is an awesome piece below is about what's being done to positively impact the island nation of Haiti.
Global Aid Pours into Haiti
by Yasamin Beitollahi

Haiti is a nation plagued by diverse issues. With a population of 8 million, most of whom are living on less than one dollar per day, Haiti is considered to be the most poverty-stricken country in the Western Hemisphere. In addition to its high unemployment rate (80%), the country is also plagued by food shortages, poor drinking water, lack of education, environmental concerns and shifting culture. Adding to Haiti's misery is the devastation caused by the strongest earthquake in more than two centuries that rocked the nation's capital, Port-au-Prince, located just 10 miles northwest of the earthquake's epicenter.

Despite all advances of science and civilization, humanity remains helpless when the worst forces of nature unleash devastation. Now, the nation's only defense against starvation and disease consists of relief from generous lands. President Obama commented: "For a country and a people who are no strangers to hardship and suffering, this tragedy seems especially cruel and incomprehensible."

Yet even as the earthquake has shaken us to our core, heroism and humanity strengthen the foundations of our global family. Courageous, exhausted, rescue workers, scramble through crippled neighborhoods, digging with their hands, refusing to give up on life. A worldwide outpouring of compassion and generosity now laps at Haiti's shores, quietly defying nature's brutality. UN data reports that at least $567.67 million has been pledged by individuals, countries, companies and international organizations to date.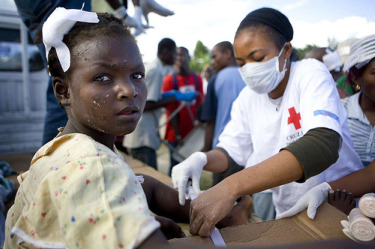 Soon after the earthquake struck near the nation's capital city, Port-au-Prince, the
Red Cross
mobilized fund raising efforts through the social networking site
Twitter
.
Just before 10:00 pm (PST) on January 12,
@RedCross
tweeted:
"You can text 'HAITI'

to 90999 to donate $10 to Red Cross relief efforts in #haiti."
As of today, donations via text message for the American Red Cross's Haiti relief efforts reached over $21 million. Verizon Wireless spokesman Jeffrey Nelson, commented "These are donors who are typically the hardest to reach: young people. They're reacting to something that affects them and realizing their few dollars can make a difference. Texting has opened up a whole new world for philanthropy."
Cycling ace and humanitarian Lance Armstrong's
Livestrong
foundation has pledged $250,000 to support relief charities working to rebuild earthquake-devastated Haiti. The former Tour de France champion is giving generously to help those left homeless after the disaster and he's urging fans and friends to do the same.
In a
video message
posted on his website, Armstrong says,
"I think what's on top of everybody's mind is the earthquake in Haiti and the devastation we all have seen on television or the newspaper or the internet. Some say more than a 100,000 lives (have been) lost. On behalf of Livestrong and everybody at our organization we'd like to pledge $250,000 for the relief efforts down there for two primary organizations: Partners In Health - great friends of ours doing great work in that country - and also Doctors Without Borders."
Alyssa Milano, a
UNICEF
Goodwill Ambassador, donated $50,000 to the charity's Haiti earthquake relief efforts, and has made a
"Tweet Challenge"
on Twitter asking corporations to match her donation.
The actress and philanthropist writes on Huffington Post:
"I challenge any corporation to match my $50,000 donation to the U.S. Fund for UNICEF. 100% of every dollar will go directly to supplies that include tarpaulins, water-purification tablets, oral rehydration salts, family water kits, medical supplies, medical kits, food, shelter, and protection."
Musician Wyclef Jean, whose homeland is Haiti, is asking people to donate to
Yele Haiti
to help with disaster relief for earthquake survivors. So far, Wyclef Jean's nonprofit organization, Yele Haiti, has raised over $1 million for the victims of Tuesday's devastating earthquake from mobile donations alone. Yele's goal is to up that figure to $1 million a day as part of the SMS fundraising drive. With a
series of urgent tweets
, an appearance on CNN and the help of his famous friends the singer has mobilized a massive effort on behalf of his homeland, imploring followers to text "Yele" to 501501 to donate $5 to the effort.
Virgin Atlantic
is flying much-needed aid along with key medical personnel, aid agency workers and rescue teams to the region in the wake of the Haiti earthquake. The aid and personnel will be flown out on a number of Virgin Atlantic flights to Miami, Orlando and Jamaica over the coming days. From there the aid agencies will arrange for the essential supplies to be transferred to Haiti. The airline has already committed to flying a minimum of 55 tons of cargo. Virgin Atlantic is also working with a number of other charities, including
Save the Children
and
Oxfam
, to assist them in their efforts to get crucial aid supplies and personnel to the region.
WAT-AAH!
, the first functional bottled water marketed to kids donated 40,000 lbs of bottled water for Haiti relief.
Though its own facilities were severely damaged by the massive earthquake,
Doctors Without Borders/Medecins Sans Frontieres (MSF)
field staff have been establishing temporary clinics in order to treat injured men, women, and children in Haiti. MSF was able to respond immediately because international and national staff had already been running several projects in country.
Spurred by actor George Clooney and MTV, 11 broadcast and cable television networks have signed on to air a two-hour telethon Jan. 22 that will benefit the earthquake victims in Haiti. "
Hope for Haiti
," presented by MTV Networks, will air commercial-free at 8 p.m. on ABC, CBS, NBC, Fox, CNN, BET, The CW, HBO, MTV, VH1 and CMT. The event, which will raise money for five relief organizations working in the ravaged country, will be hosted by Clooney in Los Angeles, singer Wyclef Jean in New York and CNN anchor Anderson Cooper in Haiti.
Haiti faces a bleak future. Its people need manpower, medicine, food and clean water. The impact of the earthquake is devastating, but the emotional and physical reverberations will wreak even more havoc if we don't increase humanitarian aid now. The international outpouring of help displays humanity's better angels -- a global sense of grief and sympathy.
And remember the people of Haiti in your prayers. May God give them strength in the days, hours, and months ahead.
Other ways to join the outpouring of humanity for Haiti: Clinton Bush Haiti Fund, UNICEF (1-800-4UNICEF), Direct Relief, Partners in Health, World Food Program, Mercy Corps (1-888-256-1900), Lambi Fund, The International Rescue Committee, Care, William J. Clinton Foundation, Meds & Food For Kids, Feed the Children, Habitat for Humanity These resources include the highest-rated charities by Charity Navigator, which is an independent, nonprofit organization that evaluates charity groups based on effectiveness and financial stability.